MR. NUTZ ORIGINAL SOUNDTRACK (CD Edition)
Mr. Nutz has marked a generation of players with its colorful world and enchanting music. Developed by only three persons in the early 90s and published by Ocean, the game was a worldwide phenomenal success and remains one of the most beloved platform game released on the Snes at the time.
To celebrate the upcoming 30th anniversary of the little squirrel, we have the pleasure to pay a tribute to this jewel made in France with the release of the original soundtrack, newly illustrated by its original creator, Philippe Dessoly! Mr. Nutz original soundtrack is composed by Raphaël Gesqua.
WAYO-V032 (May 2021)
22 tracks,
Deluxe Digipak with printed inner spine and UV spot varnish
Composed by Raphaël Gesqua
Produced, published and distributed by Wayô Records
PREORDER EXCLUSIVE BONUS! (SOLD OUT)

The CD Edition is delivered with an exclusive Mr Nutz mini-shikishi illustrated and handsigned by Philippe Dessoly!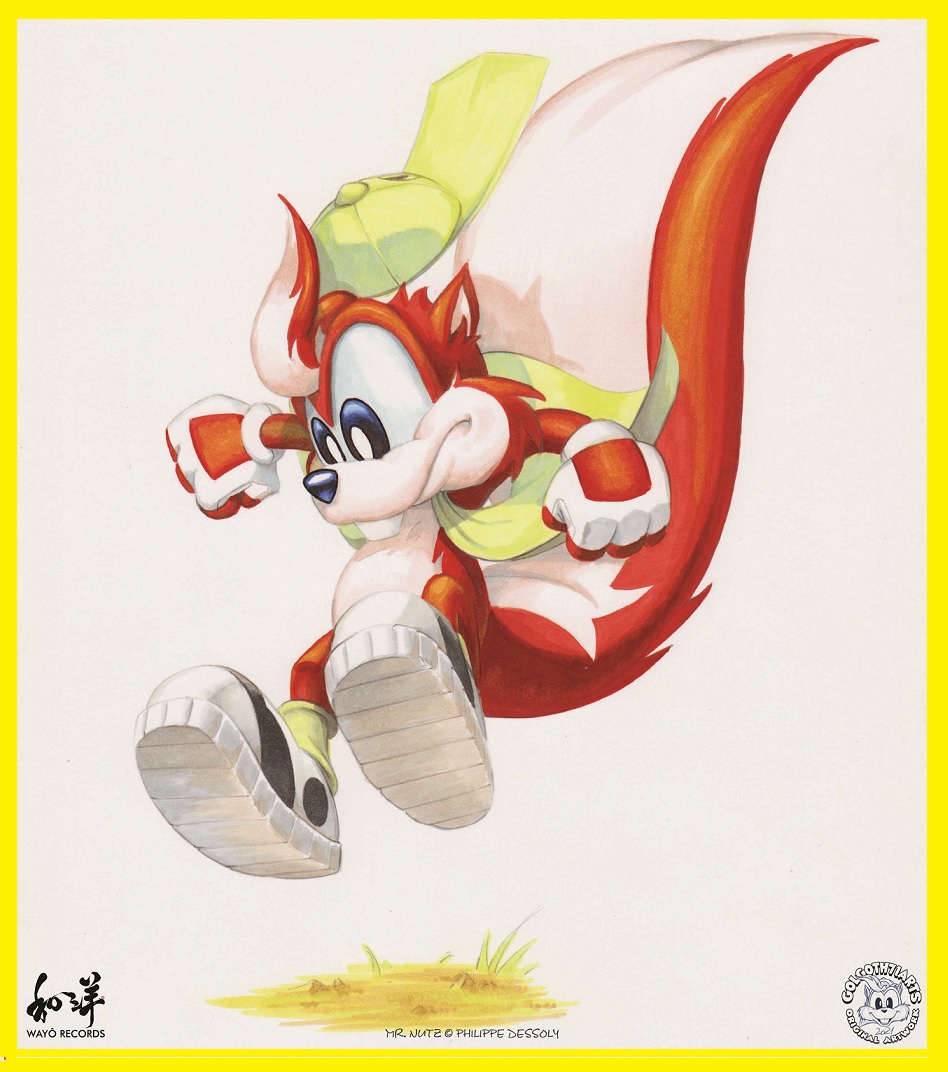 A Japanese Shikishi is a sheet of fine handmade paper affixed to a hard backing. The edges are decorated with a strip of gold paper. All our shikishis are made in Japan by authentic manufacturers.
TRACKLIST
01 OCEAN LOGO
02 TITLE
03 MAP SCREEN
04 WOODY LAND 1 & 2
05 WOODY LAND 3 & 4
06 SPIDER ATTACKS
07 WORLD CLEAR
08 ADVENTURE PARK
09 HOUSE
10 LIVING ROOM
11 IN THE WASHBASIN
12 WASHBASIN BOSS
13 VOLCANO UNDERPASS
14 VOLCANO UNDERPASS 2
15 CLOUDS
16 OGRAOUM PAPAS
17 MEAN STREETS
18 LITTLE CLOWN
19 ICE SCREAM
20 MR BLIZZARD
21 ENDING
22 GAME OVER
WAYO-032 MR. NUTZ ORIGINAL SOUNDTRACK / 2021
MR. NUTZ© PHILIPPE DESSOLY