MEGALOBOX ORIGINAL SOUNDTRACK (CD Edition)
This is the very first original soundtrack of our new Japanese Anime Collection!
MEGALOBOX is the tribute animation to the legendary Ashita no Joe, produced by TMS Entertainment and broadcasted worldwide since 2018 with a dazzling success.
MEGALOBOX Original Soundtrack is produced by mabanua (Manabu Yamaguchi) and features several renowned artists such as DJ TAKU, KOMA-CHI or Michael Kaneko. It was acclaimed by the critics for its unforgettable rhythm and melodies, inspired by a broad variety of genres such as hip hop, black music and rap.
WAYO-031 (June 2021)
47 tracks, 1 compact disc
Cristal Case, 12-page booklet
Composed by mabanua
Produced, published and distributed by Wayô Records
CD EDITION EXCLUSIVE LIMITED BONUS!
exclusive mini-shikishi featuring the invincible Gearless Joe!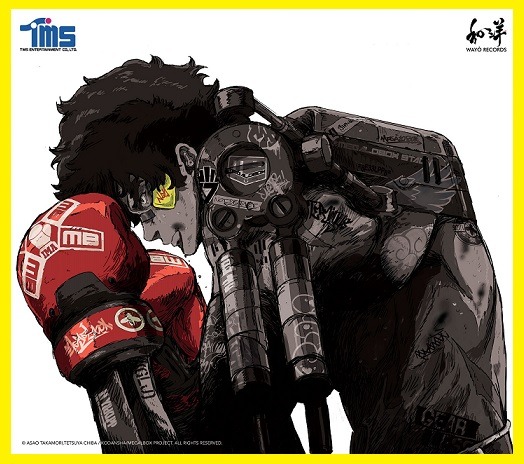 A Japanese Shikishi is a sheet of fine handmade paper affixed to a hard backing. The edges are decorated with a strip of gold paper.
TRACKLIST
01 MEGALOBOX
02 MEGALOBOX (Sorrow)
03 MEGALOBOX (Acoustic)
04 Beginning of the Fight
05 Battlefield
06 Deadlock
07 The theme of Gansaku Nanbu
08 The theme of Gansaku Nanbu (Sorrow)
09 The theme of Gansaku Nanbu (Slow)
10 A Day In The Life
11 The theme of Sachio
12 The theme of Sachio (Sorrow)
13 The Slum City feat. COMA-CHI
14 The Slum
15 The Slum (Night)
16 The theme of Bangaichi
17 Get up
18 The theme of Yukiko Shirato
19 The theme of Yukiko Shirato (Slow)
20 The theme of Yukiko Shirato (Fanfare)
21 The theme of Fujimaki
22 The theme of Aragaki
23 The theme of Aragaki (Piano ver.)
24 Heartwarming
25 The theme of Mikio Shirato
26 The theme of Mikio Shirato (Slow)
27 Lost In Grief (Deep)
28 Conflict
29 Change The Situation 1
30 Change The Situation 2
31 The theme of Yuri
32 The theme of Yuri (Slow)
33 Darkness
34 Confession
35 Resolution
36 Resolution (Slow)
37 Drive
38 Gearless Joe feat. COMA-CHI
39 Megalonia News Network
40 Enter The Arena
41 The theme of Glen Burroughs
42 The theme of Pepe Iglesias
43 We are Bangaichi feat. Sachio
44 The Beast feat. COMA-CHI
45 The Beast (Instrumental)
46 Celebration
47 The Ending
WAYO-031 / MEGALOBOX ORIGINAL SOUNDTRACK
© ASAO TAKAMORI,TETSUYA CHIBA/KODANSHA/MEGALOBOX PROJECT. ALL RIGHTS RESERVED.
PRODUCED, PUBLISHED AND DISTRIBUTED BY WAYÔ RECORDS / 2021