MEGALOBOX ORIGINAL SOUNDTRACK (Vinyl Collector Edition)
This is the very first original soundtrack of our new Japanese Anime Collection!
MEGALOBOX is the tribute animation to the legendary Ashita no Joe, produced by TMS Entertainment and broadcasted worldwide since 2018 with a dazzling success.
MEGALOBOX Original Soundtrack is produced by mabanua (Manabu Yamaguchi) and features several renowned artists such as DJ TAKU, KOMA-CHI or Michael Kaneko. It was acclaimed by the critics for its unforgettable rhythm and melodies, inspired by a broad variety of genres such as hip hop, black music and rap.
This soundtrack is now entirely remastered for the sumptuous vinyl format in this exclusive Gearless Joe Edition!
The "Gearless Joe" Limited Edition features:
- The illustrated Gatefold with Joe and Yuri
- 2 x LP with dark red color, housed in two illustrated sleeves
- A 12 pages booklet with comments from the composer and the team (Yo Moriyama, Keiichirô Miyoshi) and the English translated lyrics from the songs
WAYO-V012 (June 2021)
38 tracks, 2xLP, 33rpm
Entirely remastered for the vinyl format
Gatefold with illustrated sleeves and a 12-page booklet
Composed by mabanua
Produced, published and distributed by Wayô Records
COLLECTOR EDITION EXCLUSIVE BONUS! (SOLD OUT!)
The "Gearless Joe" Edition is delivered with an exclusive shikishi illustrated with the ultimate battle between Joe and Yuri.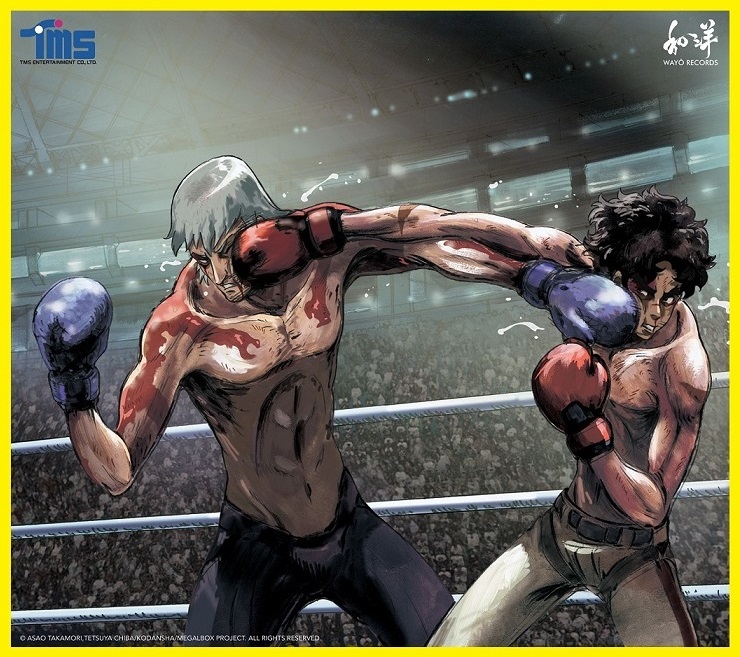 A Japanese Shikishi is a sheet of fine handmade paper affixed to a hard backing. The edges are decorated with a strip of gold paper. All our shikishis are made in Japan by authentic manufacturers.
TRACKLIST
SIDE A
01 MEGALOBOX
02 MEGALOBOX (SORROW)
03 MEGALOBOX (ACOUSTIC)
04 MEGALOBOX (EMOTIONAL)
05 BEGINNING OF THE FIGHT
06 BATTLEFIELD
07 THE THEME OF GANSAKU NANBU
08 THE THEME OF GANSAKU NANBU (SORROW)
09 THE THEME OF GANSAKU NANBU (SLOW)
10 THE THEME OF GANSAKU NANBU (PLAYFUL)
SIDE B
01 A DAY IN THE LIFE
02 THE THEME OF SACHIO
03 THE THEME OF SACHIO (SORROW)
04 THE SLUM CITY FEAT. COMA-CHI
05 THE SLUM
06 THE SLUM (NIGHT)
07 THE THEME OF BANGAICHI
08 THE THEME OF BANGAICHI (CELEBRATION)
09 GET UP
SIDE C
01 THE THEME OF YUKIKO SHIRATO
02 THE THEME OF YUKIKO SHIRATO (SLOW)
03 THE THEME OF YUKIKO SHIRATO (FANFARE)
04 THE THEME OF FUJIMAKI
05 THE THEME OF ARAGAKI
06 THE THEME OF ARAGAKI (PIANO VER.)
07 HEARTWARMING
08 THE THEME OF MIKIO SHIRATO
SIDE D
01 THE THEME OF YURI
02 RESOLUTION
03 GEARLESS JOE FEAT. COMA-CHI
04 MEGALONIA NEWS NETWORK
05 ENTER THE ARENA
06 THE THEME OF GLEN BURROUGHS
07 THE THEME OF PEPE IGLESIAS
08 WE ARE BANGAICHI FEAT. SACHIO
09 THE BEAST FEAT. COMA-CHI
10 CELEBRATION
11 THE ENDING


WAYO-V012 MEGALOBOX ORIGINAL SOUNDTRACK / 2021
© ASAO TAKAMORI,TETSUYA CHIBA/KODANSHA/MEGALOBOX PROJECT. ALL RIGHTS RESERVED