Benyamin Nuss Plays Uematsu - Vinyl Collector Edition
FIRST PRINT LIMITED EDITION (300) with Black/White Split effect and handsigned card by Benyamin Nuss.
This album is interpreted by Benyamin Nuss – who performs on the Distant Worlds: music from FINAL FANTASY and Kingdom Hearts world-tour concerts – and arranged by major names of the music industry such as Shiro Hamaguchi (known for working closely with Nobuo Uematsu), Alexander Rosenblatt (well-known Russian composer), or Jonne Valtonen (arranger for Symphonic Fantasies, Symphonic Odysseys and Final Symphony official concerts).
Benyamin Nuss Plays Uematsu is a sophisticated album of virtuoso piano perfomance on unforgettable music from Final Fantasy, Lost Odyssey and Blue Dragon. It also includes two original tracks, the first one, composed by Nobuo Uematsu for Benyamin Nuss, and the other one, a tribute by Benyamin Nuss to the composer.
Legendary arrangements carefuly remastered for the vinyl format!
WAYO-V0004 (June 2020)
10 tracks, 1 disc, 33rpm, 180g
Split Black & White
Composed by Nobuo Uematsu
Arranged by Shirô Hamaguchi, Alexander Rosenblatt, Jonne Valtonen, Benyamin Nuss
Published and Distributed by Wayô Records
Licensed courtesy of Deutsche Grammophon GmbH, Bird Studio, Mistwalker Inc., Square Enix Co., Ltd.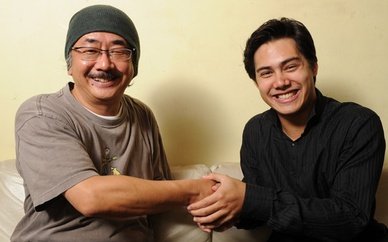 Tracklist (44:26)
SIDE A
A1 PROLOGUE (Lost Odyssey)
© 2010 MISTWALKER, INC./I.T. PLANNING, INC. ALL RIGHTS RESERVED.
A2 LIBERI FATALI (Final Fantasy VII)
© 1999 SQUARE ENIX CO., LTD.
A3 THE SERPENT TRENCH (Final Fantasy VI)
© 1994 SQUARE ENIX CO., LTD.
A4 A PLACE TO CALL HOME (Final Fantasy IX)
© 2000 SQUARE ENIX CO., LTD.
A5 MAIN THEME (Blue Dragon)
© 2010 BIRD STUDIO / MISTWALKER, INC. ALL RIGHTS RESERVED.
A6 WATERSIDE (Blue Dragon)
© 2010 BIRD STUDIO / MISTWALKER, INC. ALL RIGHTS RESERVED.
SIDE B
B1 NOBUO'S THEME (DEDICATED TO NOBUO UEMATSU)
B2 A MIGHTY ENEMY APPEARS! (Lost Odyssey)
© 2010 MISTWALKER, INC./I.T. PLANNING, INC. ALL RIGHTS RESERVED.
B3 THEMES OF FINAL FANTASY VII
THE PRELUDE, JENOVA, AERITH'S THEME, OPENING-BOMBING MISSION, MAIN THEME OF FINAL FANTASY VII
© 1997 SQUARE ENIX CO., LTD.
B4 YEARS & YEARS (DEDICATED TO BENYAMIN NUSS)