ACTRAISER ORIGINAL SOUNDTRACK & SYMPHONIC SUITE (Vinyl Edition)
To celebrate the 30th anniversary of ActRaiser, we have remastered the full original soundtrack composed by Yûzô Koshiro, and completed this divine tribute with the Symphonic Suite performed by New Japan BGM Philharmonic Orchestra at Ancient Festival in 2018! An unique chance to rediscover this intemporal classic with this new orchestral arrangement!
ActRaiser's original soundtrack was a true revolution at the time. Yûzô Koshiro's showed a technical prowess using the hardware's full ressources to create a majestuous score that inspired many composers.
- 2 Vinyls discs in exclusive "Divine Marble Blue" color, housed in illustrated sleeves.
- A new 8 pages booklet with comments from composer Yûzô Koshiro and the Symphonic Suite team (Yûsuke Ichihara, Nijûhachi Haneda)
- New original illustrations by Ayano Koshiro (who worked on several games design with her brother including ActRaiser!)
WAYO-V007 (March 2021)
28 tracks, 2 LP Discs
2 x LP Sleeve with individual illustrated sleeves
Composed by Yûzô Koshiro, entirely remastered by Shinji Hosoe
Produced, published and distributed by Wayô Records
* DIVINE OFFERING * PREORDER LIMITED BONUS ! (OUT OF STOCK)
The 250 first orders will get this exclusive Shikishi, designed by Ayano Koshiro and handsigned by Yûzô Koshiro !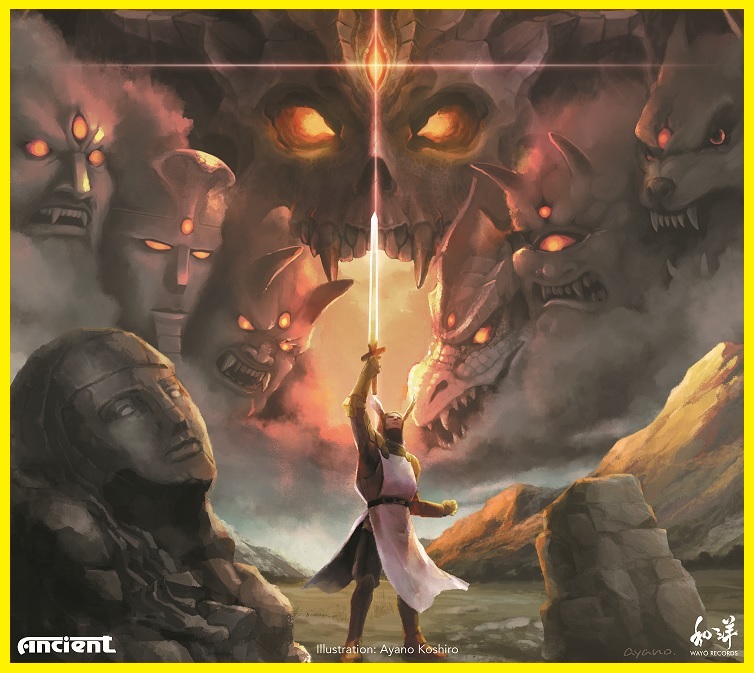 A Japanese Shikishi is a sheet of fine handmade paper affixed to a hard backing. The edges are decorated with a strip of gold paper.
TRACKLIST
DISC 1 - ORIGINAL SOUNDTRACK (34:25)
SIDE A
01 Opening
02 Sky Palace
03 Advent
04 Fillmore
05 Beast Appears
06 Round Clear
07 BloodPool - Kasandora
08 Aitos - Temple
09 Powerful Enemy
10 Pyramid – Marahna
SIDE B
01 Northwall
02 World Tree
03 Satan
04 Silence
05 Birth of the People
06 Level Up
07 Offering
08 Peaceful World
09 Ending

DISC 2 - SYMPHONIC SUITE: ACTRAISER 2018 (33:08)
SIDE C
01 Opening / Sky Palace / Advent / Fillmore
02 Birth of the People / Level Up / Offering
03 Bloodpool - Kasandora / Beast Appears / Round Clear
04 Pyramid - Marahna
SIDE D
01 Aitos - Temple
02 Northwall
03 World Tree
04 Powerful Enemy / Satan
05 Silence / Peaceful World / Ending
© ANCIENT CORP. 2019 ©YUZO KOSHIRO
℗ © 2019 NEW JAPAN BGM PHILHARMONIC ORCHESTRA
℗ SUPERSWEEP CO.,LTD.