MR. NUTZ ORIGINAL SOUNDTRACK (Vinyl Collector Edition)
Mr. Nutz has marked a generation of players with its colorful world and enchanting music. Developed by only three persons in the early 90s and published by Ocean, the game was a worldwide phenomenal success and remains one of the most beloved platform game released on the Snes at the time.
To celebrate the upcoming 30th anniversary of the little squirrel, we have the pleasure to pay a tribute to this jewel made in France with the release of the original soundtrack, newly illustrated by its original creator, Philippe Dessoly!
Mr. Nutz original soundtrack is composed by Raphaël Gesqua and remastered for the vinyl format in this 'Totally Nutz' collector Edition !
The Mr. Nutz Limited Vinyl Edition features:
- The illustrated gatefold with newly illustrated cover by Philippe Dessoly.
- 2 x LP translucent orange color housed in anti-static inner sleeves.
- A 8 pages illustrated booklet with comments from the team (Raphaël Gesqua, Philippe Dessoly, Pierre Adane)
WAYO-V013C (June 2021)
22 tracks, 2 x LP
Entirely remastered for the vinyl format
Gatefold with new cover art!
Composed by Raphaël Gesqua
Produced, published and distributed by Wayô Records
COLLECTOR EDITION EXCLUSIVE BONUS!

The 250 first orders of this edition come with an exclusive Mr Nutz shikishi, illustrated and handsigned by Philippe Dessoly!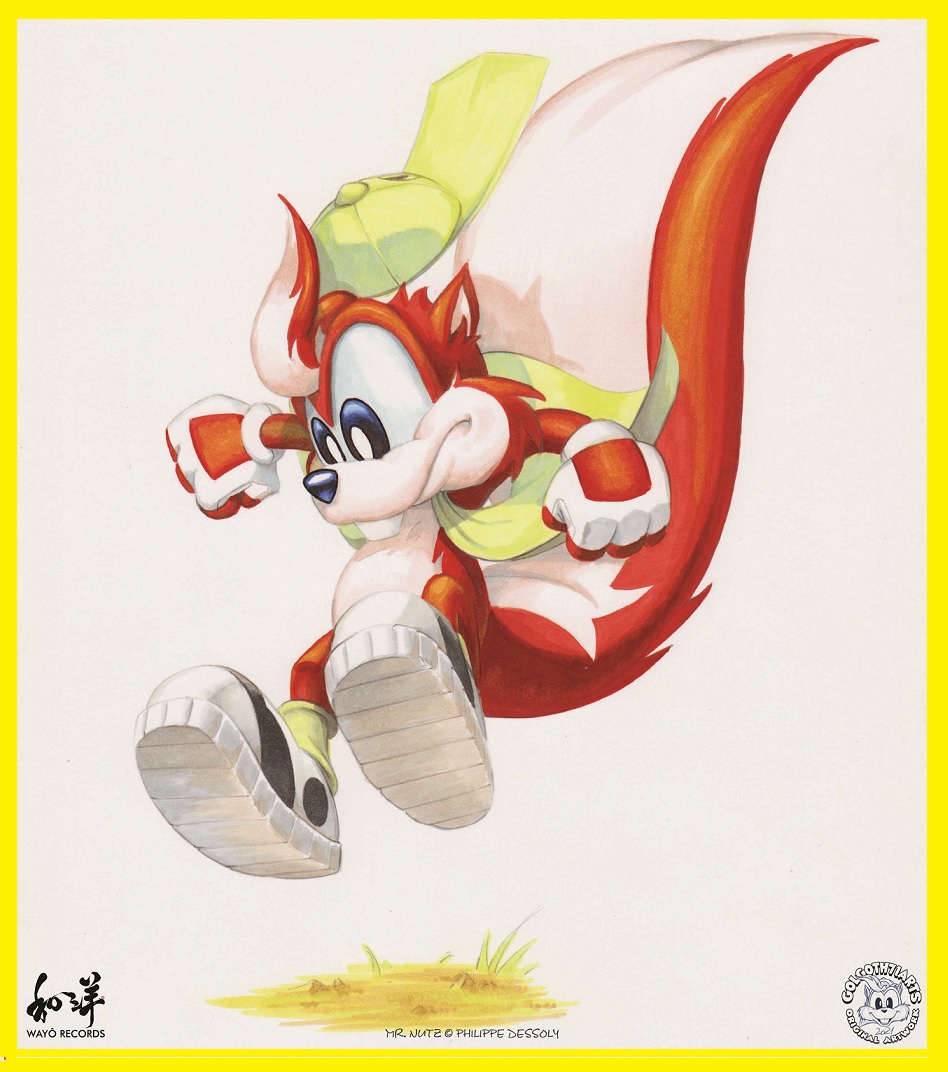 A Japanese Shikishi is a sheet of fine handmade paper affixed to a hard backing. The edges are decorated with a strip of gold paper. All our shikishis are made in Japan by authentic manufacturers.
TRACKLIST
SIDE A
01 OCEAN LOGO
02 TITLE
03 MAP SCREEN
04 WOODY LAND 1 & 2
05 WOODY LAND 3 & 4
06 SPIDER ATTACKS
07 WORLD CLEAR
SIDE B
01 ADVENTURE PARK
02 HOUSE
03 LIVING ROOM
04 IN THE WASHBASIN
05 WASHBASIN BOSS
SIDE C
01 VOLCANO UNDERPASS
02 VOLCANO UNDERPASS 2
03 CLOUDS
04 OGRAOUM PAPAS
05 MEAN STREETS
06 LITTLE CLOWN
SIDE D
01 ICE SCREAM
02 MR BLIZZARD
03 ENDING
04 GAME OVER


WAYO-V013 MR. NUTZ ORIGINAL SOUNDTRACK / 2021
MR. NUTZ© PHILIPPE DESSOLY