BAKI ORIGINAL SOUNDTRACK (COLLECTOR VINYL)
BAKI is the hit series produced by TMS Entertainment and airing from 2018 on Netflix. Here at last is its smashing soundtrack composed by Kenji Fujisawa, fully remastered in vinyl format in a blood-red three-disc collector's edition!
This edition features the soundtrack from Season 1 and Season 2 (the Great Raitai Tournament).
The vinyl edition includes:

- A beautifully illustrated gatefold sleeve
- 3 vinyl discs in three illustrated sleeves
- A 4-page booklet
- Exclusive shikishi
LIMITED EDITION EXCLUSIVE SHIKISHI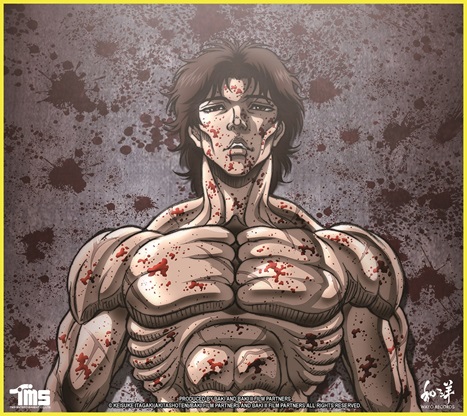 WAYO-V026 (January 2024)
60 tracks, 3 LP red splatter, 33rpm
Entirely remastered for the vinyl format
Gatefold with 3 illustrated sleeves
Composed by Kenji Fujisawa
Produced, published and distributed by Wayô Records
PRODUCED BY BAKI AND BAKI II FILM PARTNERS
© KEISUKE ITAGAKI(AKITASHOTEN)/BAKI FILM PARTNERS AND BAKI II FILM PARTNERS ALL RIGHTS RESERVED
TRACKLIST
SIDE A
1 Extraordinary Strength
2 Let the Battle Begin!
3 Super High-Speed Dash!
4 Supernatural Phenomena
5 Unspeakable Fear
6 Chinese Martial Arts
7 Approaching Darkness
8 Sikorsky the Terrible
9 Crazy Spec
10 Ryukoh Yanagi, the Poisoner
11 Kaoru Hanayama
12 The Strongest Man, Yujiro Hanma
SIDE B
1 Disturbing Atmosphere
2 Confrontation
3 Time to fight!
4 Dominance
5 Easy Battle
6 Attack and Defense
7 A Brief Respite
8 Legend
9 Tension
10 Body
11 Incredible Sights
12 Defeat
13 Maximum Attack
14 Looming Shadow
SIDE C
1 Baki, Theme of Love
2 Ossu, Karate-Dô!
3 Shaolin Temple
4 Jutsu User
5 Assassins
6 Oliva the Incredible
7 Footwork
8 Great Men
9 Men's Frienship
10 Lovers 1
11 Lovers 2
SIDE D
1 Mutual Feelings
2 Sudden Attack
3 Heartbreaking Thoughts
4 Healed
5 Determination
6 Unknown Feeling
7 Saga
8 Settlement
9 The Promise of That Day
SIDE E (THE GREAT RAITAI TOURNAMENT SAGA)
1 Baki's Resurrection
2 Counterattack
3 Super Recovery
4 History of Chinese Martial Arts
5 Observation
6 Destructive Strength
7 Brilliant Technique
8 Transcendant Battle
SIDE F (THE GREAT RAITAI TOURNAMENT SAGA)
1 Offensive Shaori
2 Overwhelming Strength
3 Sea Emperor Kaku Revival
4 Baki VS Alai Jr.
5 A Challenge to Yujiro
6 Baki's Bloodlust