Dragon Ball Z ~ Tapion - Wayô Music Box #05
As part of the Wayô Music Box collection, Wayô Records is pleased to offer this superb limited edition product under official license. Treat yourself to the sweet nostalgia and emotion with this rare, collectible item that plays the famous theme from the movie Dragon Ball Z Wrath of the Dragon (1995) composed by Tetsuji Hayashi.
This music box has the particularity to appear many times in the movie. By gathering the seven Dragon Balls, the heroes deliver the hero Tapion who tells his intense story. This faithful reproduction has both a musical and a decorative function, being the first replica of this magical artifact from the last Dragon Ball Z movie of the classical period.
This music box is entirely made under the official licence of Toei Animation. The musical part is directly approved by its original composer, Tetsuji Hayashi, who honors us by by offering an handsigned score to the fans, limited to the first 500 orders.
In addition, we are happy to embellish these first 500 orders with another exclusive gift: a mini-Shikishi made in Japan with an original illustration of Tapion, especially designed by Toei Animation Japan for this music box!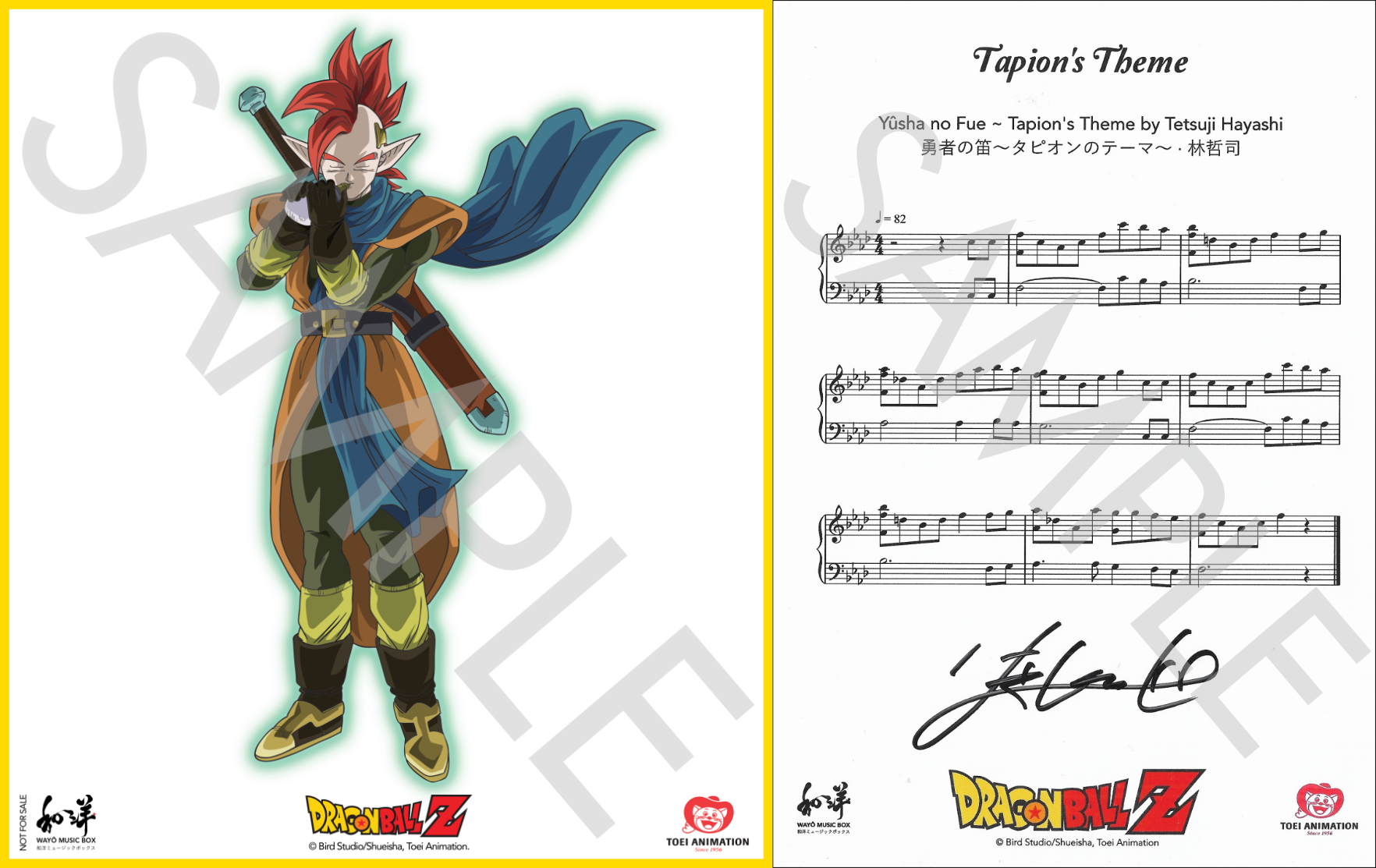 Wayô Records' Music Boxes are exceptional items. Crafted with the best materials and entirely autonomous (powered by their own winder key and trigger), they are of the highest quality and serve both musical and decorative functions.
Their design is the result of months of development, from the distinctive, "music-box" arrangement to the careful selection of materials in order to create a product that exceeds the standards, made especially for passionate collectors.
Entirely approved by the composer Tetsuji Hayashi
Collector Edition limited to 500 copies, includes the handsigned score by Tetsuji Hayashi and the Tapion mini-Shikishi
Performs the melody from Yûsha no Fue ~Tapion no Theme~ (30 seconds, looping 10 rounds), entirely automatic (without handle)
140mm (width), 100m (depth), 65mm (height)
Precision mechanism made of a rotary cylinder and 30 pins
Discreet winder below the box and "on/offˮ trigger on the front
Featuring a solid wood box
Shipped in a quality padded package
Official Dragon Ball Z License, granted by Toei Animation
Produced, published and distributed by Wayô Records
© Bird Studio/Shueisha, Toei Animation
Territory restrictions apply on this product. It may not be available in your country.
この商品は日本への販売は許可されていません。