Shenmue - Wayô Music Box #06
*** PREORDER *** Delivery Fall 2021
As part of our Wayô Music Box collection, here is the official Music Box from Shenmue! This unique artefact carefully designed to reproduce the Phoenix miror, plays the Theme of Shenhua and offers a precious and timeless moment of nostalgia to revive memories from the legendary Dreamcast game!
Especially arranged by composer Ryûji Iuchi, this luxurious music box is delivered with a limited music score, handsigned by the composer himself! An authentic precious relic from the Shenmue universe and a must have for all fans!
This music box is supervised and officially licenced by SEGA.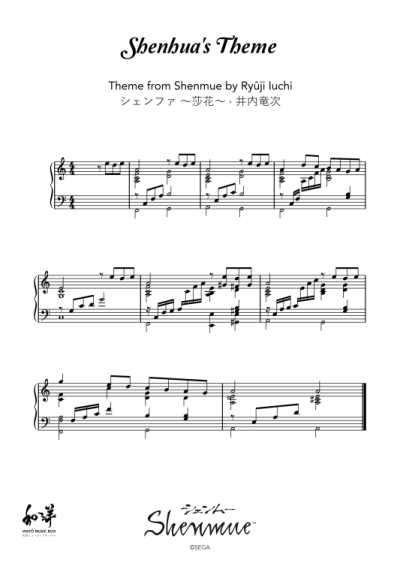 Wayô Records' Music Boxes are exceptional items. Crafted with the best materials and entirely autonomous (powered by their own winder key and trigger), they are of the highest quality and serve both musical and decorative functions.
Their design is the result of months of development, from the distinctive, "music-box" arrangement to the careful selection of materials in order to create a product that exceeds the standards, made especially for passionate collectors.
Melody composed and arranged by composer Ryûji Iuchi (Shenmue)

Collector Edition limited to 250 units, includes the handsigned score by Ryûji Iuchi

Performs the melody from Shenhua's Theme (30 seconds, looping 10 rounds), entirely automatic (without handle)

220mm (width), 120m (depth), 55mm (height)

Wooden box crafted in noble materials

Precision mechanism made of a rotary cylinder and 30 pins

Shipped in a quality padded package with Shenmue's designed logo

Licenced by SEGA

Produced, published and distributed by Wayô Records
© SEGA
IMPORTANT: PLEASE NOTE ALL GROUPED ORDERS WITH THIS PRODUCT WILL SHIP TOGETHER AT RELEASE DATE. IF YOU WISH TO RECEIVE OTHER PRODUCTS EARLIER, PLEASE ORDER SEPARATELY. PLEASE MAKE SURE YOUR ADRESS IS COMPLETE AND CORRECT.