Skies of Arcadia Eternal Soundtrack
Composed by Yutaka Minobe and Tatsuyuki Maeda, the Skies of Arcadia soundtrack
sets the tone for a wonderful adventure throughout beautiful and varied celestial lands,
and plays a crucial part in making the game one of the Dreamcast's finest titles.
Masterfully crafted by some of the pioneers of Japanese video game music,
it is a technological prowess of its time thanks to the use of interactive arrangements
that changed the mood of the music depending on the land you explored or the events
happening on screen. Furthermore, some tracks were fully orchestrated and performed
by the Skies of Arcadia Symphony Orchestra
This is a unique opportunity to rediscover the cult soundtrack from one of
SEGA's greatest RPGs of all time!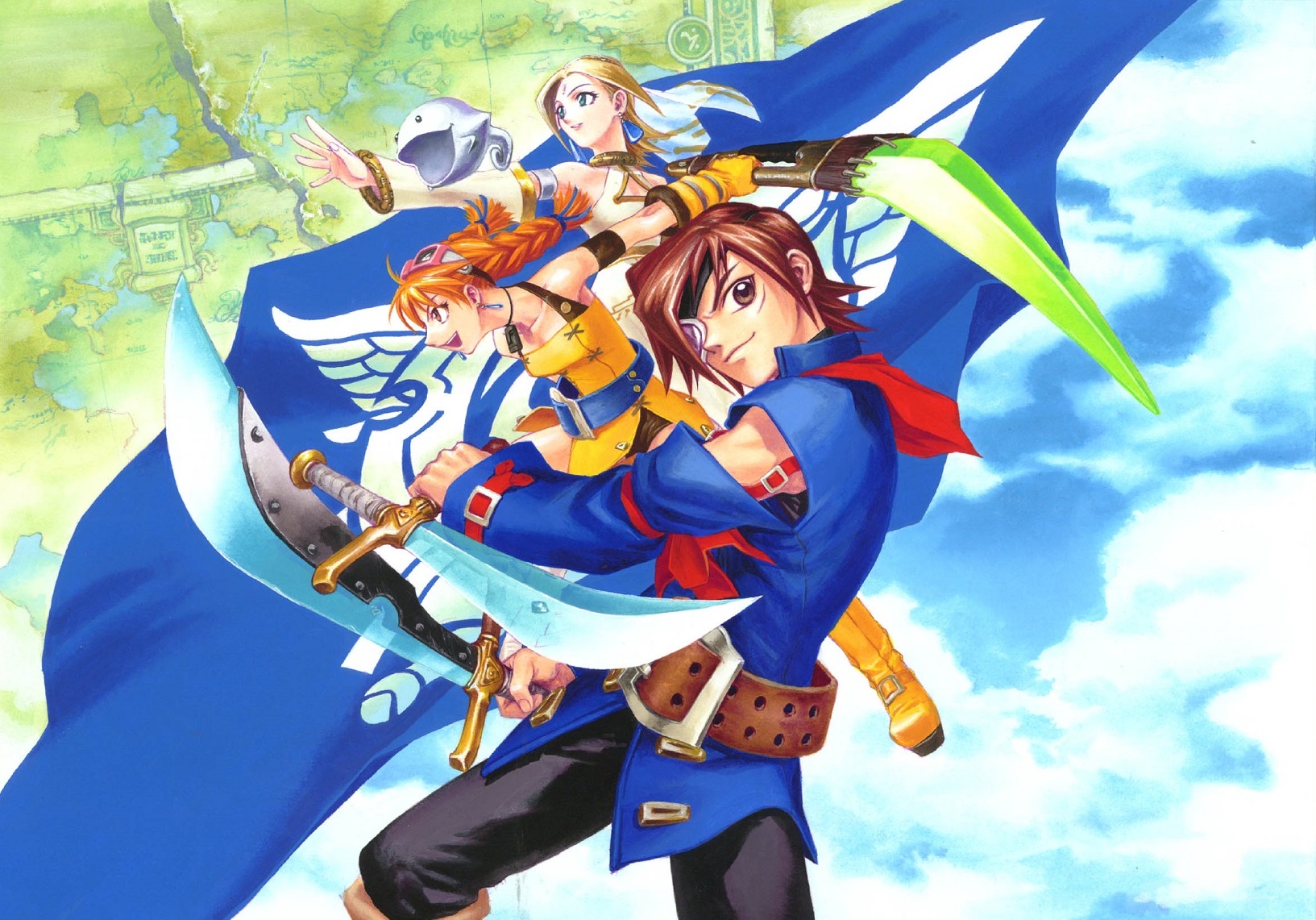 The Skies of Arcadia Eternal Soundtrack is presented within a deluxe package
featuring a brand new piece of artwork made especially for this edition by Itsuki Hoshi,
who created all of the original artworks for Skies of Arcadia. It features:
- The complete soundtrack on two CD (picture discs)
- A completely new 24-page booklet, featuring Itsuki Hoshi's gorgeous artworks
and new comments from the development team (Shuntaro Tanaka, Rieko Kodama)
and the composers (Yutaka Minobe, Tatsuyuki Maeda).
Learn never heard before details about the birth of the game!
- Two brand new piano arrangements, created by Ramon van Engelenhoven,
including a majestic, 15-minute medley that will let you experience the world of Arcadia with a fresh outlook.
The Skies of Arcadia Eternal Soundtrack features 67 tracks from the original game,
plus these two new piano arrangements.
Skies of Arcadia Eternal Soundtrack Details
Composed & arranged by: Yutaka Minobe & Tatsuyuki Maeda
Performed by: The Skies of Arcadia Symphony Orchestra
Format: Vinyl (180g)
77 tracks, 3 CD, 24-page booklet (English language)
Official product licensed by SEGA
Skies of Arcadia Eternal Soundtrack Tracklist
CD1
Opening Theme
Main Theme
Sky Pirate Isle
Galcian's Theme
Flashback
Sky Pirate Hideout
Blue Rogues' Theme
Blue Rogues' Ship (Nasrad, Ixa' taka, Valua)
Dungeon of Searing Heat
Dungeon of the Ruins
Battle
Vyse's Theme
Kingdom of Nasrad
Dungeon of the Cave
Black Sky Pirates' Theme
Bombardment
Let's Go
Sailors Town
Kingdom of Ixa' taka
Dungeon of the Ancient Temple
Legend
Sudden Storm
Uninhabited Island
Loneliness
Drachma's Theme
The Little Jack (Nasrad, Ixa' taka, Valua)
Imperial Theme
Valua City
Tension
Dungeon of the Military Facilities
Armada
Boss Battle (Crisis, Opportunity)
The Victory
CD2
Headquarters
Fina's Theme
Everyday Life
Gag
Gilder's Theme
Nervous Crisis
Tragedy
Hatred
Delphinus
Yafutoma Dawn
Eastern Sky Pirates' Theme
Dungeon of the Ice
Nervous Crisis 2
Battle 2
Rejoice
Ice Town
Dimming Lights
Gigas' Theme
Bombardment 2
Bombardment Victory
Border Town
Great Silver Shrine
Ramirez's Theme
The Battle with Armada
Defeat
Enrique's Theme
The Last Dungeon
Zelos
The Last Darkness
The Last Battle
Emotional
The Legendary Sinking Continent
Epilogue
Staff Roll


CD3
Voyage en Arcadia
Souvenir d'Arcadia
Skies of Arcadia Eternal Soundtrack Video