Samurai Shodown Original Soundtrack
With its beautiful Japanese instruments,
the music of Samurai Shodown (2019) combines the power of
modern times with the spirit from the roots of the series,
performed by the best traditional Japanese players,
including the legendary HIDE×HIDE duo! This soundtrack
features the theme song Revive the Soul and each of the
character themes, for a total of two hours of epic music!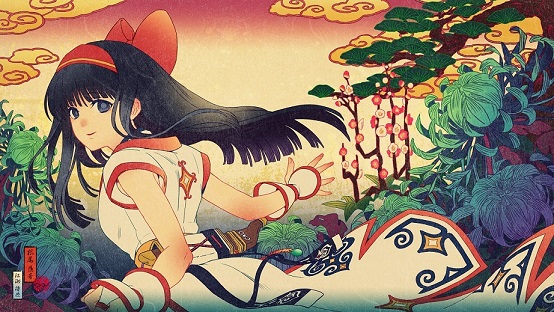 The original soundtrack on CD includes 44 tracks on two
compact discs and an English booklet with composer comments.
First orders will get an original Mini-Shikishi (120*135mm)
especially designed for Wayô's customers,
drew and hand-signed by the character designer Saji Yumi,
and also hand-signed by the lead composer Hiroshi Yamasoe,
limited to 150 copies!
SPECIAL PREORDER BONUS!
First orders will receive a handsigned mini-shikishi!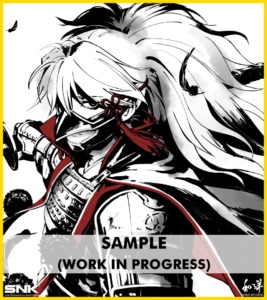 Samurai Shodown Original Soundtrack
Composition & arrangements : SNK SOUND TEAM
Published & distributed by Wayô Records
44 tracks, 2 CD, booklet (english text)
©SNK CORPORATION ALL RIGHTS RESERVED.
Samurai Shodown Original Soundtrack Tracklist
DISC 1
01 Oneself (Opening)
02 Sturm und Drang (Main Menu)
03 The Sixteen Challengers pt. 1 (Character Select 1)
04 Prologue Demo
05 Stone Marker (Map Screen)
06 Way of the Overlord (Haohmaru)
07 Waltz of Nature (Nakoruru)
08 The Crow (Yashamaru Kurama)
09 Divine Punishment (Hanzo Hattori)
10 Winner Demo 1
11 Deathmatch Conclusion (Result Screen)
12 Seafarer's Paradise (Darli Dagger)
13 San-San (Wu-Ruixiang)
14 Fin of Invincibility (Galford)
15 Hazy Moon (Ukyo Tachibana)
16 Interim Demo 1
17 Continue
18 Here Comes a New Challenger
19 Harmonious Rock Rhyming Six Sentences Remix (Tutorial)
20 Dojo 1
21 Dojo 2
22 Dojo 3
23 Festive Colors (Simple Credits)
DISC 2
01 The Sixteen Challengers pt. 2 (Character Select 2)
02 Zagashira (Kyoshiro Senryo)
03 Bamboo Grove Village (Jubei Yagyu)
04 Indigenous No. 2 (Tam Tam)
05 French Lady (Charlotte)
06 Interim Demo 2
07 Onibayashi (Genjuro Kibagami)
08 Way of the Crook (Earthquake)
09 Pulsation (Shiki)
10 Iki (Yoshitora Tokugawa)
11 Winner Demo 2
12 Fateful Encounter (Intro)
13 Fateful Encounter (Battle)
14 Boss Intro
15 Shizuka Sennen Zakura (Map Screen)
16 Dance of Evil Spirits -Part Ⅰ- (Shizuka Gozen)
17 Final Boss Transformation
18 Dance of Evil Spirits -Part Ⅱ- (Shizuka Gozen)
19 Final Boss Defeat
20 The After Stories (Epilogue Demo)
21 Revive the Soul (End Credits)
Samurai Shodown Original Soundtrack Video
* Please make sure your postal adress is correct and fully completed.
Any shipment issue due to wrong postal adress will not be refunded.