Magician Lord Original Soundtrack (Vinyl Edition)
For the 30th anniversary of the legendary SNK Corporation's Neo-Geo, Wayô Records is proud to present this new complete edition of the Magician Lord soundtrack in both vinyl and CD digipak formats, featuring a new illustration by Eisuke Ogura! This iconic game has been released in 1990 and was one of the launch titles of the cult arcade system by SNK, and 1991 on the home system. It is still regarded today as one of the legendary game made by SNK on these systems.
In addition to this release, the soundtrack is accompanied by a brand-new virtuoso piano arrangement, especially produced by Wayô Records, and recorded in studio on a beautiful Steinway model C by Nicolas Horvath (official Steinway Artist). This new piano arrangement is part of the Wayô Piano Collection and is a unique way to rediscover the fabulous Magician Lord soundtrack.
The new illustration designed and hand-signed by Eisuke Ogura is available with this vinyl edition, as a collector japanese-made Shikishi, offered to the first 150 orders!
Special bonus! (unsigned) shikishi!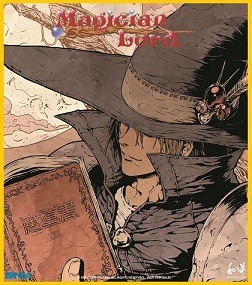 WAYO-V008 (November 2020)
19 tracks, 1 disc, cristal mistyrose, 33rpm, 180g
Shikishi offered to the first 150 orders, hand-signed by Eisuke Ogura
Published and distributed by Wayô Records
Licensed by SNK Corporation
Tracklist
Side A (18:20)
01 NeoGeo Sound Logo
02 Opening
03 Stage Start
04 Magician Lord
05 Ankoku no Kettô
06 Gal Agiese
07 Shugo Shinden
08 Stage Clear
09 Surrender!!
10 Flying Killers
11 The Castle of Zephros ~ Seifû no Kyûden
Side B (18:40)
01 Magician's Dream
02 Fukkatsu no Az Athos
03 Epilogue
04 The Great Gate of Granada
05 Unfinished Man
06 Ranking
07 Game Over
08 Magician Lord Wayô Piano Collection
IMPORTANT: PLEASE NOTE ALL GROUPED ORDERS WITH THIS PRODUCT WILL SHIP TOGETHER AT RELEASE DATE. IF YOU WISH TO RECEIVE OTHER PRODUCTS EARLIER, PLEASE ORDER SEPARATELY. PLEASE MAKE SURE YOUR ADRESS IS COMPLETE AND CORRECT.